On Saturday 6th January I went to see 101 Dalmatians with the School. The show was very good and it was quite clever how they made the dogs come to life using puppet like creations and actors to control the puppets and to be the voice of the dogs. Personally, my favourite character would be Cruella de'vil who was extremely eccentric with a great voice, facial expressions and emotions or the Chihuahua who sang brilliantly in the song lead by Poncho and Missus. The show was brilliant and I would happily go and see it again. 
Holly Clark-Pratt, Year 8.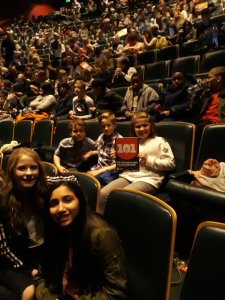 The theatre production of 101 Dalmatians at the Birmingham Repertory Theatre was an outstanding performance staying true to the story. The characters were mean (Cruella), loving (Mr and Mrs Dearly), nervous (Horace) and funny (the Baddens).  The layout on stage was like you would imagine with an on-stage band, and in the background little cars whizzing up and down as some of the characters left the stage.  My favourite part was when Cruella's car came on stage – all the people held together the individual pieces of the car. I found it hilarious when her on stage husband, Horace, was behind her with a little smoke machine and some dangly dice saying 'broom broom', looking very bored and sad.  Overall the show was a thrilling experience. All the actors, dancers, singers and puppeteers came together to make a wonderful show.
Ewan Metcalfe, Year 7.