Netball
U13A
On Saturday, the U13A team lost a tough game against Foremake Hall School the girls played with great spirit but couldn't quite match the sharp attacking play of the opposition. It was evident that Tuesday night training was paying dividends as the transitional play from defence to attack was excellent.  Player of the Match was Victoria Wheatley for her excellent movement.
U13B
On Saturday, in wet conditions the U13B team lost 16 – 2, though the score line doesn't reflect the game, with Ratcliffe having their fair share of possession. It is fair to say that Ratcliffe need to slow their game down and be more clinical in attack. However, it was pleasing to see excellent movement and defending skills and their progression so far this year. Player of the Match was Eleanor Griffiths.
U12A
The U12A team had a great 17 – 9 win against a strong Foremarke Hall team. They started off strongly in the first half with Katherine McCrindell and Sophie Walker working well as a pair in our attacking D rarely missing their shots, which gave the team an early lead. Jessie Bardsley and Jayde Patterson made brilliant interceptions in the defending third, making it a very difficult task for Foremarke to take any shots. The girls moved the ball well through the court and worked hard for every ball which paid off. The girls should be congratulated on another great performance. Players of the Match are awarded to Jayde Patterson and Sophie Walker. Well done girls.
Cross Country
Congratulations to the Year 7 cross country runners.  The team consisting of Gizella Perrins, Sophie Shield, Daisy Reddin and Zoe Howling were crowned County Champions. Well done to Jayde Paterson, Jessica Westwood, Marissa Smith and Sophie Packwood who came 7th as a team.  Well done to Freya Smith, Olivia Crawley and Chantelle Creighton who all ran strongly in the respective age groups.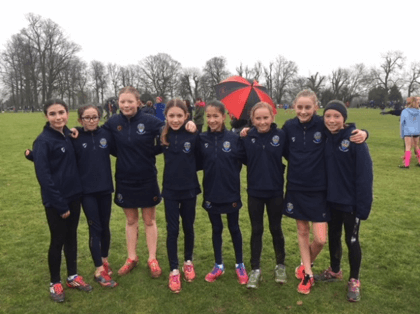 Football
Amy Mason (Year 9), playing right back was again in action for the Loughborough Foxes U15 girls football team today. On a bitter but sunny morning they played Oadby and Wigston in the Leicestershire and Rutland County FA under 15s girls Cup Final.
In a thrilling match Amy's team dominated the game playing some tremendous football. Despite this the Foxes were only slightly ahead at half-time leading to some twitchy, not to mention, frozen parents. This was especially the case as Oadby and Wigston are the only team to have managed to trouble the Foxes winning streak this season. In a more competitive second half, the Foxes strong team spirit and hard work saw them through to run out 3 – 0 winners.
Swimming
Congratulations to Samantha Diaz (year 10) who came first in the county in the U15, 50m butterfly, 50m freestyle and 100m butterfly.  She also secured a number of top three finishes in her other events and will begin competing for a British National Spot with the top 24 in each age group qualifying for British Nationals and 25 – 40 swimmers qualifying for English Nationals; good luck!
Olivia Back
Sports Ambassador 
1st XI
The 1st team travelled to Hill House for an early start and came away with a hard fought 3 – 1 win. Not at their best, Ratcliffe scored first through Alex Purcell and then added a second when Reece Goodman finished off calmly at the back post, after a flowing move. The second half proved a much closer affair, as Ratcliffe struggled against the Hill House style of play. Ratcliffe score another goal, with Alex Purcell scoring his second. Unfortunately, there was no clean score sheet though as Hill House managed a late consolation goal. Player of the Match was Tom Binnie, who had a fine game in midfield.
U15A
The U15A team played away at Hill House, and came away with a 4 – 2 win. After a long journey the boys struggled during the first half and conceded just before half-time. The second half was a much better display of hockey with Man of the Match Krishnan Jivanji and captain James Turner bagging themselves two goals each. The boys deserved the well fought 4 – 2 win.
U15/14B 
The U15/14B's recorded a fine 7 – 0 win against Oakham on Saturday. They flew out of the blocks, scoring early and did not look back. Their intensity on and off the ball allowed them to play some quality flowing hockey and by half-time they were 5 – 0 up. This quality continued into the second half and by the final whistle it was 7 – 0. Everyone in the team played brilliantly, but Henry Coombs and Will Wright performed outstandingly, with Man of the Match going to Jacob Storey.
U14A
The U14s continued their winning ways with a 2 – 0 victory over Hill House. They were lacklustre for the opening period but a goal against the run of play, courtesy of Wilson Lee spurred them into life. From that point on, they almost totally dominated with Wilson also scoring the second goal. Man of the Match was shared between Ethan Chapman and Guy Heywood.
U13A
The U13's enjoyed a comprehensive 10 – 2 victory on Saturday in what was by a long way the best performance of the season. Harry Gamble led the way with three goals, Wilfrid Milner, Sam Gray and Cameron Mulvihill scored two goals each with Henry Uwrin scoring once. The team were all awarded Players of the Match.
U12A
The U12s played some excellent hockey to beat Hill House 4 – 1. Ratcliffe's passing and movement was superb and it was a surprise that the score line at half-time was only 1 – 0 to Ratcliffe, due mainly to a number of fantastic saves by the Hill House goal keeper. A Hill House goal, against the run of play, early in the second half was soon turned round with three more well taken Ratcliffe goals, including a stunning strike by Harry Cregeen from a short corner. Goal scorers were Harry Cregeen with two, Kai Kirk and Oscar Webster. Man of the Match was Kai Kirk for a superb all round game.
Rugby
The Under 15 rugby team sadly bowed out of the Rugby County Cup at the semi-final stage. Playing away at Leicester Grammar they competed well but, with a number of players missing with illness, could not find a way to break down the opposition, eventually losing 38 – 0 with Logan Rattray-Moyes picking up Man of the Match on his return from injury.
Swimming
Congratulations to Max Diaz (year 7) came fourth in the 400 IM, and seventh in the 50 back, 100 back and the 200 free.  Max place Ninth overall in the 12-year-old age group for the most combined CATS points.  Max also helped lead his team, Braustone, in an overall county win for the boys. 
Cross Country
Congratulations to Archie Banks, who in tough conditions and a strong field came third in the senior cross country Championships. Well done to Tycho Parkes and Liam Hardy Smith who both ran strongly in their age groups
Boxing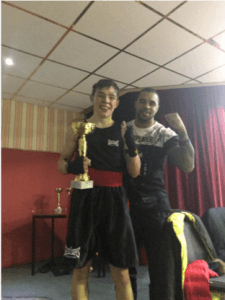 On Sunday, Ruairdh Gorton had his first amateur boxing fight, winning with a unanimous points decision. He had the added pressure of the fight being filmed and assessed for his A level PE.
Harry Heaney
Sports Ambassador