Safeguarding
Safeguarding at Ratcliffe College
Ratcliffe College takes the safeguarding of its students very seriously and to facilitate this we have a dedicated team who oversee, and have responsibility for, safeguarding concerns.
The Director of Safeguarding is Mr J Masterton who is also the Designated Safeguarding Lead (DSL) for the whole college. He is supported in this by staff from across the college who take on the role of Deputy Designated Safeguarding Lead's. Mr Masterton has a lot of safeguarding experience having previously worked as a Detective within Child Protection and as the Safeguarding and Welfare Manager at another education setting.
The Safeguarding Team ensures best practice in all aspects of child protection and student welfare across the College. This incorporates safeguarding training and a staff induction programme which emphasises pastoral support and welfare. The school's Tutor Programme, as well as the delivery of the PSHCE programme within the curriculum, are designed to ensure current safeguarding issues are regularly discussed.
On the rare occasion that a significant safeguarding or child protection concern is raised at Ratcliffe College the Safeguarding Team will undertake appropriate actions in line with Local Safeguarding Children Partnership and Government guidelines. The College has their own Safeguarding and Child Protection Policy for guidance.
IT'S NOT OK!
The "It's Not Ok" awareness campaign is Ratcliffe College's ongoing response to the Government guidance issued to schools in the wake of the 'Everyone's Invited' movement in 2020. The "It's Not Ok" campaign will focus on raising awareness of the negative impact of inappropriate behaviour that may lead to sexual harassment and, possibly, sexual violence.
Ratcliffe College has a zero-tolerance approach to sexual violence and sexual harassment and the "It's Not Ok" campaign, aims to give students the confidence to share any concerns they may have whilst reinforcing the message that certain behaviour is not okay. It is our intention to further improve the training of our staff and volunteers so that they remain vigilant and have the confidence to identify and share concerns.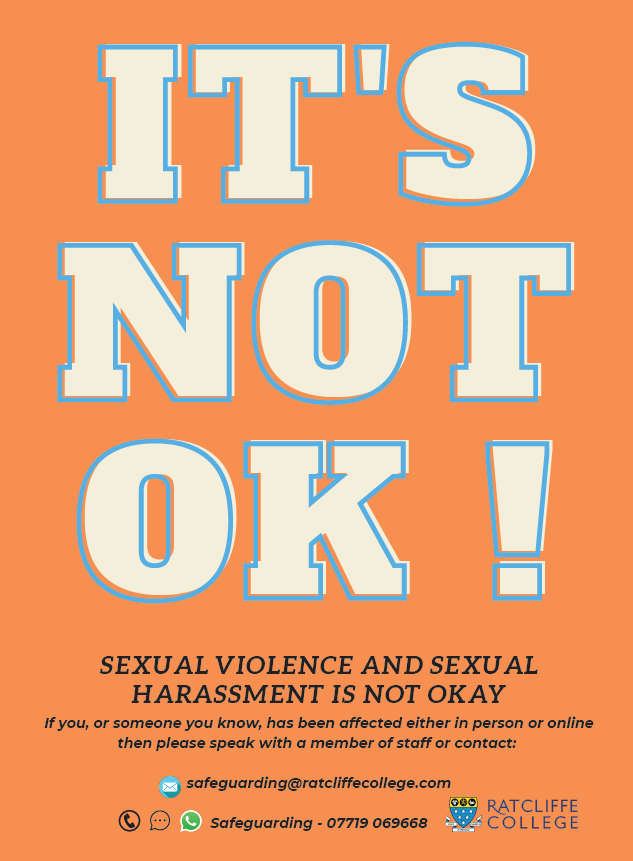 The topic of sexual violence and sexual harassment already forms part of the current PSHCE curriculum. The Director of Safeguarding's role will enable the College to develop further opportunities for students to engage in open discussion within a safe and controlled environment, which is age appropriate. Such matters are extremely challenging, but it is most important that young people understand how to develop positive relationships with one another as they grow up, whilst being clear about what is acceptable behaviour and what is not acceptable and why. We will also provide opportunities to discuss this topic with parents, so that you feel confident to speak to your children should they raise a concern at home.
It is important to be aware that sexual violence and sexual harassment can also take place online, and we would encourage you to regularly discuss with your children what they are accessing online or who they are communicating with. A good resource for you to gain an understanding of the issues is: https://www.nspcc.org.uk/what-is-child-abuse/types-of-abuse/online-abuse/
Safeguarding is everyone's responsibility, and we encourage you to report any concerns you may have about any child whether this relates to school or not. The Director of Safeguarding is here to serve the student and parent body and to discuss any concerns you may have of a safeguarding nature.
Contact Information:
Director of Safeguarding – Mr J Masterton (jmasterton@ratcliffecollege.com)
Preparatory School – Mrs M Markham (mmarkham@ratcliffecollege.com)
EYFS – Miss R Ravat (rgreen@ratcliffecollege.com)