Modern Foreign Languages – Ages 16-18
Academic Programme
The aim of the A Level modern language course is to help students increase their awareness of the need to speak a foreign language, to appreciate the nature and diversity of different cultures and people and to acquire knowledge, skills and understanding for practical use, further study and employment.
One language sets you in a corridor for life.  Two languages open every door along the way

Frank Smith
Resources
A Level groups are taught by dedicated linguists, including some native speakers, in purpose-built classrooms, using the latest textbooks and digital resources.  Students also benefit from having one to one lessons with native language assistants in addition to their timetabled lessons, to improve their fluency in spoken language.
Attitudes to language learning are positive; uptake at A Level is strong.  A large number of our A Level students go on to study one of their chosen languages at university or combine a language with their studies in Accountancy, Business Studies, Engineering, English, Law, Medicine and Veterinary Science.
Co-Curricular Activities
We strongly encourage all students to take part in our annual homestay visits to Spain and France during the Easter holidays, where students attend intensive lessons in the mornings, followed by a programme of activities in the afternoons.  Students of German are advised to participate in the exchange visit to Koblenz, where they will experience a German Gymnasium and what it is like to live as part of a German family.
Our after school French film club seeks to broaden students' interest in and knowledge of themes to complement the A Level syllabus including the occupation, diversity and difference and music: M. Batignole, La vie en Rose, Intouchable, Le Placard, are just a few of the films that have been offered this year.
We have enjoyed considerable success in French debating challenges, organized by Business Language Champions: we are two-time winners of this event, the latest being in December 2017.
French Study Visit to Montpellier
During the Easter holidays Year 12 and 13, along with Year 10 and 11 students went on a  study visit to Montpellier.   Robyn and Shailey in Year 12 wrote the following article about their experience.
Robyn – En allant à Montpellier et en habitant avec ma famille d'accueil, j'ai gagné plus de confiance en moi et en plus, j'ai amélioré mes compétences en langue à travers l'école. Bien que ça puisse être une expérience effrayante, je la recommanderais car non seulement c'est une nouvelle façon d'apprendre le français, mais aussi c'est vraiment amusant et enrichissant d'être totalement immergé dans une nouvelle culture. Pour moi, la meilleure partie était quand après l'école les après-midi, nous appréciions la beauté de la ville. Tous les jours, au lieu de prendre le tram afin d'aller à l'école ou de rentrer à la maison chez notre famille d'accueil, nous y allions à pied pour profiter du soleil et de la belle ville. En bref, si vous voulez améliorer votre niveau de français tout en vous amusant : allez à Montpellier.
Shailey – Ce que j'ai aimé le plus c'était vivre avec la famille d'accueil parce que ça m'a permis de mieux comprendre la culture française. Je recommanderais une telle visite car ça aide les étudiants à améliorer leurs compétences orales. En outre, je pense que la meilleure façon d'apprendre une langue est de s'intégrer dans la société et de pratiquer la langue.
La visite m'a donné plus de confiance quand je parle français et j'ai appris beaucoup sur la culture française.
German Exchange 2019
Students from Year 12 enjoyed an eventful week in Koblenz during the February half term holiday. Organised trips and activities included a cable car trip across the majestic river Rhine, and trips to Cologne and Trier. Students stayed with their German partners, attended lessons on school days and impressed throughout with their willingness to communicate in the target language. They were treated to a number of activities, including laser tag, swimming, bowling, cycling and the inevitable shopping. We were blessed with sunny, warm weather throughout.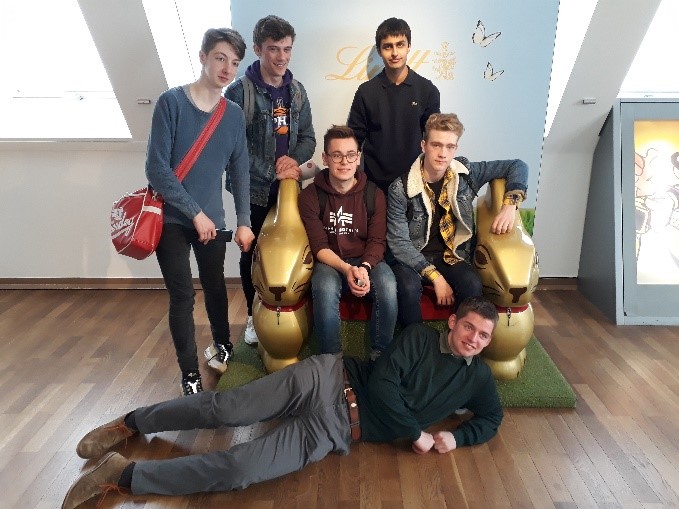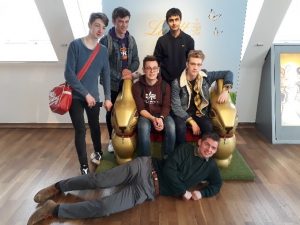 Language Ambassadors
Congratulations go to the following Year 13 pupils who have been chosen to be Language Ambassadors:
French – Shailey Sheth
German – Matt Elton
Spanish and German – Eddy Robinson
Staff
Mrs S Cushing, Head of Languages – scushing@ratcliffecollege.com
Mr P McCrindell, Second in Languages –pmccrindell@ratcliffecollege.com
Mrs Elia Bello – Teacher of Spanish – ebello@ratcliffecollege.com
Miss M Casas, Teacher of Spanish – mcasas@ratcliffecollege.com
Mrs A Crebbin, Teacher of French and Spanish – acrebbin@ratcliffecollege.com
Mrs W Zaragoza, Spanish Language Assistant – wzaragoza@ratcliffecollege.com
Mlle A Schlick, French Language Assistant – aschlick@ratcliffecollege.com
Herr M Feldbaumer, German Language Assistant – mfeldbaumer@ratcliffecollege.com