Open Days and Visits
The best way to get a feel for what Ratcliffe College is all about, is to visit us!
Looking for Year 7 for 2019?
Come to our Coffee and Cake Morning
If you are a parent of a Year 6 child, who is considering entry into Ratcliffe, into Year 7 in September 2019, we would like to invite you to attend an informal Coffee and Cake Morning with the Headmaster, Mr Jon Reddin, on:
Friday 30th November 2018, between 10am and 12.30pm.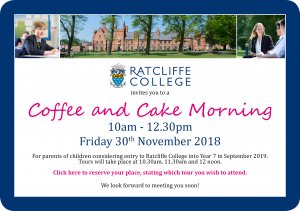 Open Mornings
Our next Open Morning is on:
Saturday 9th March 2019: 9.30am – 12 noon
Sixth Form Information Evening
We hold a Sixth Form Information Evening every November, for entry into Year 12 in the following September.  If, in the meantime, you wish to have a Personal Visit, please see below.
Personal Visit
However, you are also welcome to visit us, with your son or daughter on a normal school day.  By arranging a Personal Visit, you will have a tour of the School, accompanied by one of our Sixth Form students, and an individual meeting with either the Head of our Preparatory School, Fr Cann, or the Headmaster, Mr Reddin.  If you would like to arrange a Personal Visit, please contact our Admissions Department on +44 (0) 1509 817031 / 817072 or at registrar@ratclffecollege.com.
Taster Day
Would your son or daughter like to know what it's like to experience a typical school day at Ratcliffe College?  Then arrange a Taster Day!  Your son or daughter would attend normal school lessons and get a good indication of whether they feel Ratcliffe College is the right school for them.  A Taster Day can be arranged either prior to taking the Entrance Examinations/Assessments or after being offered a place.  Children applying for a Boarding place are also welcome to stay overnight as part of their taster visit.
To arrange a Taster Day, please contact our Admissions Department.