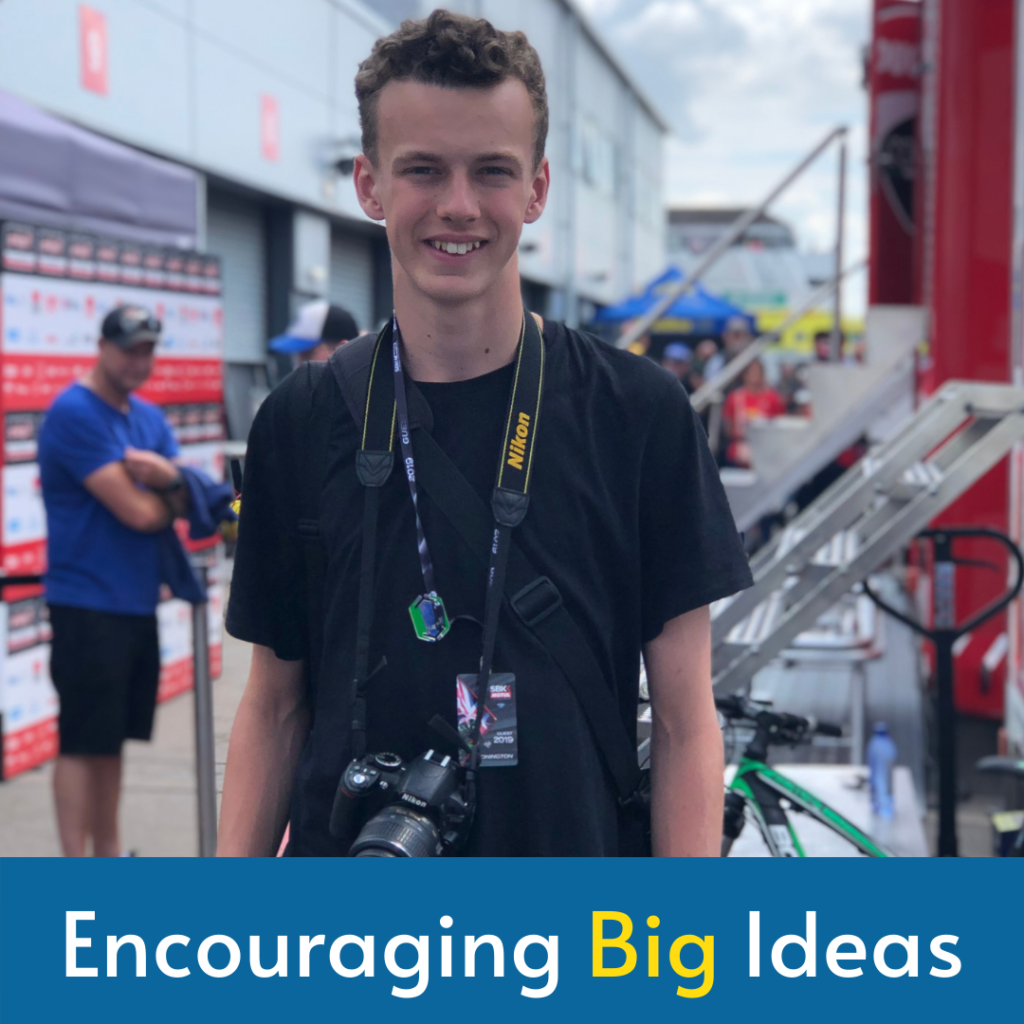 Media enthusiast Jamie Hollis recently set up his very own photography and video business at just 17 years old at the same time as studying at Sixth Form here at Ratcliffe College.
By combining his interests in sports and photography, Jamie found an opportunity to gain some invaluable experience by taking a camera and volunteering at numerous sporting events. Jamie's work gained interest from multiple clients and sports clubs and grew to the point where he now sells his images on his own website. Not only is it a great example of what can be accomplished whilst studying at Ratcliffe, but it goes to show we encourage any big idea, no matter where it may take you.
Jamie explained: "I have a big passion for motorcycle racing and when I saw my sister's camera sitting in our house collecting dust, I decided to put it to use by photographing my favourite riders at the next possible race I could attend. From this, my love for photography, videography and digital media grew, to the extent where I began to volunteer my time shooting at a range of sports events. Over the past few years, I've had the opportunity to work more professionally and gain a number of clients who now pay me, ranging from sports teams to portrait and fashion photography.
Jamie's talents aren't limited to video and photography either, as he has recently expanded his services to include digital marketing and managing social media accounts for his clients to help with growing the audience and increasing engagement.
It's no surprise that the work Jamie produces for his clients is complemented by his Media Studies classes at school. Combining both of these elements, it makes perfect sense that he'll pursue a long and successful career in the industry after his time here at Ratcliffe.
Jamie added: "I'm lucky enough to study A Level Media at Ratcliffe, which not only expands my knowledge of the industry but also enables me to receive support from the media team and gain feedback on my work. I'm extremely grateful for the time the teachers have given up, both during lunchtimes and after school to support my development. Once I have completed my A Levels, I am excited to develop my media skills further, with the ultimate dream to work within a media department at a football club (Leicester City of course)!"
Head of Media Studies, Miss Catherine Simms said: "I'm super proud of him as a Media student. It shows real dedication to put the time and effort in at such a young age to gain hands-on experience and start his own venture. I wish him the very best of luck!"
We're extremely happy for Jamie and have no doubt that he will continue to go from strength to strength during his A Levels and beyond; as he looks towards a future beyond Ratcliffe College and continues to dream big! If you would like to know more about Jamie's services, please check out his site here: www.jamiehollismedia.com
To find out more about how Ratcliffe College could encourage your big ideas, don't forget to check out the new video on our homepage. Or better yet, why not look at our virtual experience and request to arrange a visit in person.